10 Business Ideas in Nepal | Start a Business in Nepal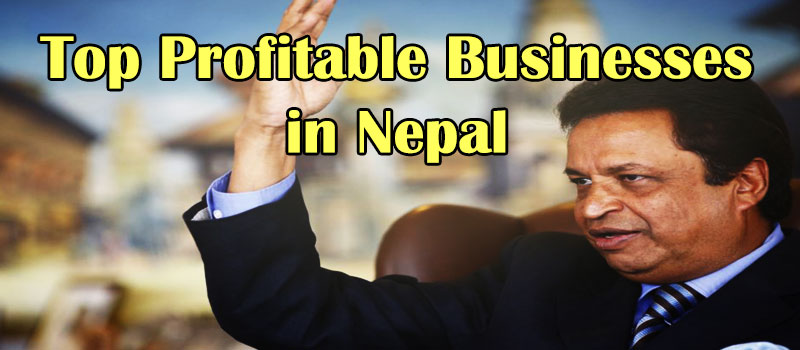 10 Business Ideas in Nepal | Start a Business in Nepal [Updated 2019]
At this present time when the jobs are not giving any real satisfaction to the people, we want to do something on our own. We want to start a business that will make us happy and fill our needs but most of the people fail to convert their thoughts into reality. This mainly happens because of lack of proper knowledge about the business and trying to copy someone who is doing great in that business. Before starting any business, we must make sure that we have covered all the basics right, have got enough knowledge of the business and have some great love & passion to work.
Here, we have brought a list of Top 10 Profitable Business Ideas in Nepal that you can start easily and make your living up to the mark:
The growing technology has changed a lot of things in our lives. Shopping has now turned into Online Shopping because of technology. Online Shopping experiences have been increased rapidly in the last decade and as a result of that big giant Online Shopping Companies like Amazon and Alibaba are being able to generate some real value in their business. Nepalese are no far from this fact and they know that Online Shopping is actually taking the traditional shopping market of Nepal.
Nepalese people are too much busy in their day to day work and because of that the Online Shopping Companies like Daraz, Sastodeal, Muncha and other companies are putting a hand to provide some better shopping experiences to the people of Nepal from their own place with the help of internet.
So the market seems to be growing but none of the companies have actually taken the market completely till now and there seems to be a lot of competition in the field. If you have a nice and unique way or proposal for starting a Online Shopping Business in Nepal, you can give it a try and can also acquire the market easily.
We can start the Online Shopping Companies in local market like local regions or cities and then increase the business as the time goes on to other cities and other regions. There is a nice chance of growing this company and the cost of starting the business is quite low.
Cost of Starting: You can start this business from NRs. 30,000 – 50,000. You will need to get an e-commerce website ready for your company, get your company registered and then start selling the products from your online store. The capital can be increased according to your capacity.
2. Small or Large Food Stalls
Food is something that everyone likes. People love to eat new and delicious foods. In Nepal, the foods like Mo:Mo, Chowmein, Noodles, Chatpat, Sausages, Pani Puri, Samosa Chat are more famous among the children, youths and old. Starting a food stall that can provide these food materials which are fresh and hygenic too can be a nice step towards a profitable business if you are a person who loves to cook and enjoy feeding people. Food stalls can be started in a busy area where there is a huge movement of people. You can start a small food stall as well as a big hotel. If you are providing fresh and delicious foods, you are sure to get good number of customers to your business daily.
You might have seen some small food stalls around Bhatbhateni Super Market. Starting similar types of food stalls in famous areas can increase your business.
Cost of Starting: You can start a normal food stall from just around NRs. 40,000 and increase the capital as per your capacity.
3. Courier Services
With the increasing market of E-Commerce Businesses, there will be need of Courier Services that will help the e-commerce businesses to move their products up to their customers. The Online Shopping sites are in need of someone that will help them supply the products to their customers with proper care. So, starting a courier service agency can be one of the most profitable business in Nepal at this time and will be in great shape for coming 10 years and more.
You can start this business easily but the companies will need to have faith in your company and once you have that faith, you are sure to get some great business.
Cost of Starting: You can start this business from NRs. 30,000.
4. Blogging and Youtube
For IT professionals or one who love to work in the field of IT, Blogging and Youtubing can be one of the most successful business ideas. Get some real theme on what you want to work. Get a field of your interest and start blogging and making videos in that interest. You can monetize your Blogs and Youtube Account (Channel) through Google Adsense and other Advertising Networks and make your earnings. Try to focus on one thing and bring out everything about that thing in your Blogs and Videos.
Get some real high traffic in your contents and you can make your earning through it. Many Bloggers and Youtubers are making their living with Blogging.
Cost of Starting: You can start your own blog for free or around NRs. 5,000 to 10,000.
Yearly, large number of tourists visit Nepal for travel and refreshments. Having some great places to visit and country full of natural beauty, variety of religions, temples, historical places and more, if we use our mind in right thing, we can make a good earning from here as well.
We can start a Travel Agency and book hotels,flights and places for Foreigners and help them travel to amazing places of Nepal. We can have our life filled with refreshment and fun by working or running a travel agency as the only thing that fascinates a living being is travel. By helping someone travel to Nepal, we can easily make our earning possible.
Also being a Travel Guide and taking tourists to amazing places can be a nice way of making our living possible. The Travel Business is one of the most successful business in the world and Nepal is one of the places where people love to spend time and money for travelling.
Cost of Starting: Starting a travel agency can cost around NRs. 50,000 and more and may need to make some legal documents as well.
6. Domain, Hosting and Website Designing
For IT Professionals, starting a Web Developing Company can be enjoyable and fruitful. In Nepal, there are many companies that provide Domain buying and selling, Web Hosting Services to the companies and are making good sum monthly. Web Designing and Development can be added to this business and you make a complete Web (IT) Company.
Many Web Companies are situated in Kathmandu and there are rarely any companies in other cities. So starting a Web Company in different place other than Kathmandu can be less competitive and you can get new and fresh clients from the market. Get your own Hosting Packages and make websites for the businesses.
Cost of Starting: You can start this business at around NRs. 10,000 to 15,000 and the cost may go up for renting some space for your office.
 7. Tuition Centers & Career Counseling
Education is one of the most important thing in person's life and in Nepal, people are willing to get good education just to make sure that they have a nice and settled future. Working in the field of education can be a nice business idea as the demand of quality education will always be there no matter what happens.
So, if you have a nice teaching capability, you can start a Tuition Center on your own and teach the students according to your knowledge. Teaching the students and in return you get paid nicely. Many people are running their living properly by running tuition centers and are happy with the outcome.
Another business you can add to your Tuition Center is Career Counseling. You can give good counseling to the students about their future. What subject can be beneficial to the students. What should they focus on and how to shape a Student's Career. Helping the students to go in the right fields will surely get you some good outcome. Educational Consultancies are working in this field and earning enough today.
Cost of Starting: You can easily start this business with around NRs. 10,000 to 15,000 and renting a teaching space.
8. Poultry Farming
Poultry Farming is one of the most attractive businesses that you can start in Nepal. Some basic knowledge and ideas about the business can help you start your own business with less capital.
Raising domestic birds like chickens, ducks, turkeys and geese for meat and egg can be a mouth watering business plan for anyone. The day-to-day rising demands of Meat and Eggs in Nepal means that there is need of more poultry farms in Nepal.
Government is importing meat and eggs from India and if the products are produced in Nepal itself, the business will automatically grow.
Cost of Starting: You would need to invest around NRs. 30,000 to 50,000 at the starting and can increase your investment after some months.
9. Electronics Sell and Repair
There is high demand of electronic items like Mobiles, Laptops, Smart Watches, Cameras, Headphones in Nepal. Daily lakhs of devices are imported to Nepal. You can start your own electronics selling and repairing store and make a nice life.
Televison, Computers, Laptops, Mobile Phones, Cameras are some of the most selling electronic items in Nepal. If you start a shop for selling these items and then provide repairing services to the electronic items, you can make enough income to have a settled life.
You can start from low cost electronic items and provide repair services and then increase your business after working for few months.
Cost of Starting: You can start a small electronics repair store from around NRs. 20,000 to 30,000 and can start selling electronics by increasing the budget of the business.
10. Event Photography
In 2019, Events Photography has emerged as one of the most wanted professions in Nepal. Everyone is in need of a Event Photographer whether it is business seminars, business parties, marriage parties, school functions, festivals or anything. If you have interest in photography and you have a strong desire to do something in this field, then Event Photography is the most attractive business idea for you.
You would need a nice camera and some photo editing skills to master in the field of Event Photography. The earning in this profession is quite high and you can easily make your living with this business.
Low starting cost and some real desire towards photography can lead you to become a successful Event Photographer.
Cost of Starting: You can start this business at around NRs. 30,000 to 50,000 plus you would need a DSLR Camera.
If you have more ideas about businesses that can be started in Nepal, please share your thoughts in the comment box below.