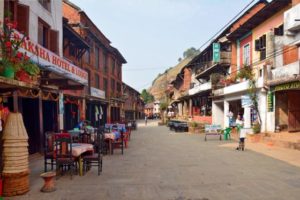 Bandipur, known as the Queen of the Hills is a hilltop settlement.
This place is located at 27.56N, 84.25E at an elevation of 1030m(3380 ft). It lies midway between Kathmandu and Pokhara i.e, 143 km west from Kathmandu and 80 km east from Pokhara. It is connected by an 8km access road from Dumre (Prithvi Highway).
Bandipur is orginally a Magar village but the settlement of Newars in the past has made it a Newari place. Today it is settled by a lot of Nepali ethinicities: Magar, Newar, Gurung , Brahmins, Chettri and many more.
Bandipur is also called a natural view tower from where we can have a excellent view of the Himalayas like the Annapurna Range, Dhaulagiri, Manaslu, Langtang and also the Marsyangdi Valley. It is an interesting tourist site with a lot of hotels and resort to accomodate.
Home-stay is also available in many Newari houses. Bandipur has saved the Newari architecture of the buildings.
Places to explore in Bandipur:
Bandipur Bazar

Tudhikel

Tindhara (Three Taps)

Downhill Trek to Siddha Cave

Thani Mai

Mahalaxmi Temple

Khadga Devi Temple

Bindyabasini Temple

A hike to Ramkot Village

Raniban
Written by: Anukul Regmi