Kushma, a must visit place for Travelers [Visit Nepal]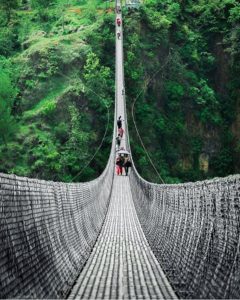 Kushma, headquarter of Parbat district is also a famous destination for a lot of Travellers.
It is located in the western part of Nepal about 57 km far from Pokhara. It is located at 28°13'06N 83°40'45E at an altitude of 1294 meters.
Kushma Bazaar is the main attraction of Kushma which seats in the inclined narrow strip on the top of two river's banks, Kaligandaki and Modi.
The Kushma bridge joins Kushma to another village Gyadichour on the other side of a deep gorge.
Announced at the beginning of 2008 and completed in early 2010, the huge Kushma-Gyadi catenary suspension footbridge is one of the world's highest of its type. Crossing 384 feet (117 mtrs) above the Madi River, the trail bridge is also one of Nepal's longest with a span of 1,128 feet (344 mtrs). This bridge cost NPR Rs. 2 Crore, which is helped and cooperated with the department of Ministry of local development DOLIDAR, Government of Nepal. Many people come to Kushma just to walk over the bridge.
Kushma is also known as the home of mysterious Gupteswor Cave. Every individual who loves visiting new and wonderful places must have a reach to this place atleast once in their life.

Written by: Anukul Regmi