Sarangkot, the highest view point for a sunrise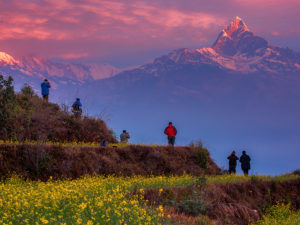 Sarangkot is situated at an altitude of 1600m and is renowned for its panormic himalayan views of Annapurna, Manaslu , Ganesh Himal , Dhaulagiri , Machhapuchare and many more.
It is the most popular tourist destination to see a lovely overall view of Pokhara with its natural beauty. It is also one of the best destination for hiking. It's also a centre of attraction for those who wanna do paragliding. It is a place from where gliders fly.
Sarangkot is also popular as one of the most desired Paragliding Spot of the country. Daily hundreds of visitors visit here for this adventure.
Written by: Anukul Regmi